SpectraMax i3 Multi-mode Microplate Reader
Description
Specifications
Downloads
Get Quote
The most versatile and flexible microplate detection system available.
Most flexible; spectral absorbance, fluorescence, luminescence; western blot detection; user-upgradeable
with 4 top cartridge positions and SpectraMax®  MiniMax™ 300 Imaging Cytometer on bottom.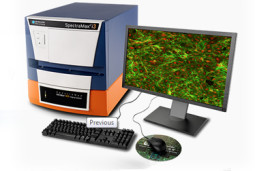 Characterization:
With the SpectraMax i3 Multi-Mode Detection Platform, researchers are able to use a wide range of detection cartridges, like the ScanLater Western Blot System, that provide increased plate reader functionality. The SpectraMax MiniMax 300 Imaging Cytometer option is available for cellular imaging assays and the SpectraDrop™ Micro Volume Microplates for low volume DNA, RNA and protein sample prep. Now, all of your needs are covered with a single plate reader.

---
Representative Applications
AlphaScreen®
Apoptosis
BRET
Cellular imaging assays
Cell cycle analysis
Cell proliferation, viability, cytotoxicity
Enzyme activity
Epigenetics
Fluorescent protein expression
FRET
Genotyping
GPCRs
GTP binding
Hormones
HTRF®
Immunoassays
Ion channels
Micro Volume (Low volume) Applications
Molecular interactions
Nuclear receptor
Nucleic acid and Protein quantitation
Reporter assay
Time-Resolved Fluorescence (TRF)
Western blot detection
Technical Data:
The SpectraMax i3 System not only offers unlimited flexibility with our patented cartridge architecture, it
also uses advanced Spectral Fusion™ Illumination as the excitation source and provides extended dynamic range
with a patent pending design. Spectral Fusion Illumination is a combination of a flash lamp and powerful LEDs,
producing a powerful light source, ultimately increasing the sensitivity of the system across the full spectrum. The
dynamic range extension uses a combination of optical and electronic components to not only provide optimal
sensitivity, but also maximize the signal range.
Superior software

Supported by industry-recognized SoftMax® Pro Microplate Data Acquisition and Analysis Software, users
are now able to extend the ease-of-use of their typical plate reader applications to cell-based imaging and western blot detection.
Optional enhancements
• SpectraMax MiniMax Imaging Cytometer
• ScanLater Western Blot System
• SpectraDrop™ Micro-Volume Microplate
• SpectraTest® Validation Packages (ABS1, FL1, LM1)
• SoftMax Pro GxP Microplate Data Compliance Software
• IQ/OQ Protocols
---
Scan Later Western Blot Detection System 
The ScanLater Western Blot Detection Cartridge is a user-installable option for the SpectraMax i3 and Paradigm® Multi-Mode Platforms. The ScanLater Western blot system simplifies the traditional western blot protocol by employing a europium-labelled secondary antibody which is then read by Time-Resolved Fluorescence (TRF). This substrate free detection method enables membrane scanning up to 30 days after the final wash step. The assay demonstrates sensitivity in the high femtogram, comparable to traditional chemiluminescence western blot methods. Leveraging this novel technology, researchers can:
Add western blot detection to their microplate reader within two minutes
Eliminate time-dependent substrate addition steps
Use one software platform, SoftMax® Pro Software to integrate both microplate and western blot detection assays