PerceptionTM Rapid Rack Reader
Description
Specifications
Downloads
Get Quote
• With better speed, better footprint and better connectivity.
• Use with any 2D barcoded tubes in SBS format racks
• Total read time for a whole rack is just 0.75 seconds!
• Only one USB cable needed for both power and data transfer.
• Integrated Active Cryoprotection® system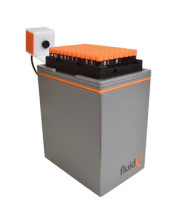 Characterization:
Use with any 2D barcoded tubes in SBS format rack
This Perception SBS Rapid Rack Reader can be used with all 2D Data Matrix barcoded tubes in an SBS footprint rack (24, 48, 96, 240 or 384 format) tubes supplied by Greiner, Matrix, Nunc, Micronic and of course, FluidX.
The smallest rack reader available
The SBS Rapid Rack Reader has a much smaller footprint than any other whole rack reader available, saving precious bench space.
Better speed
Other readers measure their speed in terms of grab time, capture time or decode time, but we believe that the real measure is the amount of time it takes from pressing "scan" to receiving the data you want.
All Perception Rapid Rack Readers will do this, for a complete rack of tubes, in just 0.75 seconds!
Better connectivity
Only one simple USB cable is needed for both data transfer and power.
Can be connected with any standard USB cable up to 5m in length.
(Supplied with standard 1.5m cable).
By using just one cable, without additional interface boxes, routing within integrated environments becomes simple!
Results can be viewed directly or integrated with other applications, with ODBC connectivity for database integration.
Direct data output to Excel, CSV, Text, Windsock, TCP/IP, ODBC.
Dependable decoding
The team at FluidX were involved in developing the very first 2D barcoded tubes and readers, today our scanners are the result of more than 15 years of continuous development. We know our stuff!
"No tube" feature
Able to discriminate between a tube with a barcode that cannot be decoded and a rack position with no tube. The Rapid Rack Reader will not attempt to decode empty tube positions and data files are kept "clean" as wasted data entry is avoided, leading to faster rack reading.
Automation friendly and easily integrated
The Rapid Rack Reader features TCP/IP Winsock connectivity for remote control of reader functions for integration into robotic/liquid handling work cells.
All FluidX rack readers have a gripper cutout section for easy robotic handling of shallow racks.
Fits most SBS racks, or plate nests, neatly with no overhang to obstruct liquid handling systems so only one plate position is needed.
Rack templates
Custom templates can be set up when a specific rack layout is used routinely. E.g. When a row remains empty within a 96 format rack, or control tubes are placed in specific positions on a regular basis.
Automatic rack orientation
Always the innovators, FluidX were the first to supply a unique 2D Data Matrix barcode identifier on racks to provide automatic rack orientation. All our whole rack readers are able to read rack and tube 2D barcodes simultaneously so scan and decode time remains low.
Available with integrated USB linear barcode reader
An integrated USB linear barcode reader provides automatic and simultaneous scanning of rack 1D barcodes. Plugs directly into the Rapid Rack Reader so there's still only a single USB connection to a PC.
With integrated Active Cryoprotection® system
The FluidX Active Cryoprotection system was developed over 4 years ago and it really works!
All FluidX Rack Readers fitted with our Active Cryoprotection system achieve 100% decoding after reading more than 40 racks straight from a -20oC freezer!
Technical Data:
Code formats
Data Matrix®, ISO 16022, Square and Rectangular Format, ECC 200, 0 – 20 grid sizes, White on Black and Black on White, Numeric
and Alphanumeric
Sensor type
5 Megapixel variable focus CCD sensor
Light source
2x Diffused LED light boards
Read time
0.75 seconds
(Total scan and decode time for rack of 96 tubes)
Tube compatibility
All 2D barcoded sample storage tubes in SBS rack format including glass compound storage tubes and cryo tubes
Dimensions
100 x 140 x 160mm(WxDxH)