FLIPR Tetra
Description
Specifications
Downloads
Get Quote
The FLIPR® Tetra High Throughput Cellular Screening System dramatically accelerates the ability to screen libraries of candidate compounds against GPCRs and ion channel targets, which ultimately reduces the time-to-market for new drug therapies. The system is optimized for use with both fluorescent and luminescent assays with user-changeable 96-, 384-, and 1536 well heads for maximum flexibility.
The FLIPRTETRA® System from Molecular Devices is an industry-renowned instrument  for monitoring GPCRs and ion channels.
Characterization:
Industry-renowned, flexible, and reliable real-time kinetic cellular assay screening system for identifying early leads against GPCR and ion channel receptors.
Technical Data:
FLIPR® Tetra System utilizes Molecular Devices ScreenWorks® System Control Software to define and run experimental protocols. Using a drag-and-drop interface, protocols can be easily set up to include:
Fluorescent or luminescent read modes
Simultaneous transfer of 96, 384, or 1536 liquid or cells in suspension
Complex quadrant, multiple aspirations, or multiple dispensing liquid handling
Single or ratiometric kinetic cell-based reading
Tip washing with up to two solvents
Cell suspension delivery with automatable cleaning protocols
Simple-to-create automation protocols
ScreenWorks Software is both flexi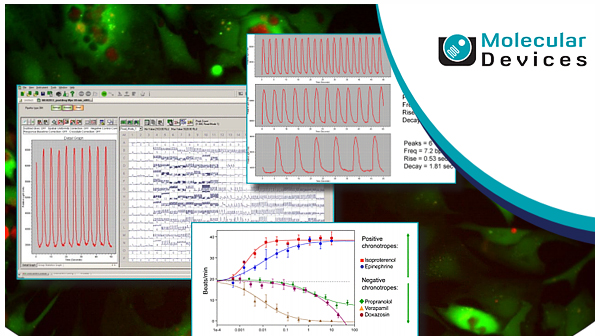 ble and user-friendly. During protocol set-up, only relevant options are displayed, based on the installed fluidics and optics hardware, making it easy to choose parameters that are right for each assay. Live and information-rich data in 96-, 384- or 1536-well plate format is displayed while testing. Specific wells can be grouped for analysis or data export purposes. Graphs and tables can be easily copied and pasted into documents, presentations or worksheets, and different reductions can be selected for group statistics, making results readily accessible.
---
Brochures/Datasheets
Applications
Posters