Flex Station
Description
Specifications
Downloads
Get Quote
Adapting to biochemical- and cell-based application requirements while streamlining assay throughput
is a challenge faced by many drug discovery and research laboratories.
Multi-detection platforms often provides assay flexibility with one system you have 5 different modes with integrated fluid transfer.
You can optimize assays on one system with a multi-detection platform capable of increasing the liquid handling throughput and flexibility for biochemical- and cell-based kinetic assays.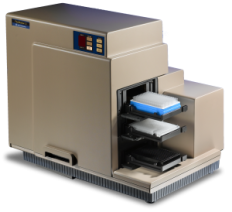 Characterization:
Automated pipetting ensures consistent addition time and minimizes pipetting
errors, thus providing tighter assay CVs within and  between experiments. For fast, kinetic cell-based
assays, throughput is increased when a column of  wells are pipetted, read, and analyzed simultaneously
rather than one well at a time.
Flexible liquid transfer
Using an 8- or 16-channel pipettor, the FlexStation 3 Reader offers added assay flexibility
over dispenser-based systems by transferring  reagents from 96 or 384 distinct wells in a
source plate to a read plate, simultaneously. In addition, users can define individual reagents
and concentrations to be delivered to each well. The direct transfer capability reduces reagent
consumption and allows for more assay conditions to be explored in a single microplate, making the
system more amenable to agonist and antagonist  assay formats.
Comprehensive Reader Validation
SpectraTest® Absorbance and SpectraTest Fluorescence Validation Packages are available to determine the optical characteristics of the system. The  Reader exclusively offers fluid transfer validation using Molecular Devices patented  PathCheck® Feature to quantify the integrated 8- and 16-channel pipettor head performance. These tools can be used in conjunction with SoftMax® Pro Software.


---
Technical Data:
The FlexStation 3 Microplate reader supports a wide variety of assay categories including:
Fast kinetic calcium mobilization assays
Membrane potential assays
ELISAs
DNA/RNA quantitation
Protein assays
Enzyme kinetics
Protease assays
Fluorescent proteins and FRET
Cell viability and cytotoxicity assays
Reporter gene assays
Cell migration assays
Cell adhesion assays
Fatty acid uptake assay
Neurotransmitter transporter uptake assays
ADME-Tox
Membrane permeability
Phosphotase/kinase assays
Microbial growth assays
Endotoxin assays
Low volume applications

---

Superior optics

The FlexStation 3 Reader's optics are designed to easily adapt to changes in
assay requirements while maintaining the optimal performance of a single-mode
reader. Based on the SpectraMax M5e platform, this five-mode reader addresses
multiple application technologies including: absorbance, fluorescence intensity,
fluorescence polarization, luminescence and time-resolved fluorescence.
---
The most extensive library of supported application protocols to get you started faster
Optional tools for regulated labs with SoftMax Pro GxP Software to speed compliance
Advanced calculations including non-linear fitting metrics for in-depth analysis
The only Mac and Windows native application support for seamless exchange of data files between operating systems
Proven integrations with leading automation and LIMS platforms for partnered solution