FilterMax F5
Description
Specifications
Downloads
Get Quote
The FilterMax™  F5 Multi-Mode Microplate Readers provide value and flexibility for a variety of applications capable of performing:
Absorbance detection in the visible range (340 nm to 650 nm, F3) or UV and visible range (230nm to 650nm, F5)
Fluorescence Intensity (FI) top read
Fluorescence Intensity (FI) top read & bottom read (F5)
Luminescence (glow)
Fluorescence Polarization (FP) – F5
Time-Resolved Fluorescence (TRF) – F5
Scan measurement types: endpoint, kinetic, multiple wavelength, linear scan and area scan
Linear and Orbital shaking
Temperature Control
Unmatched assay performance in a multi-mode microplate reader.
Characterization: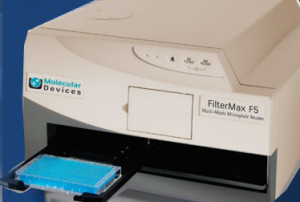 The FilterMax F5 features absorbance (UV and visible), fluorescence intensity – FI (top and bottom reading), glow luminescence, fluorescence polarization (FP), time-resolved fluorescence (TRF), for 6- to 1536-well plates. In addition, the instrument features linear and orbital shaking, plus temperature control. Users can program endpoint, kinetic, multiple wavelength, linear scan and area scan measurement types. Easily accessible six-position filter slides enable wavelength selection from 230 nm to 750 nm.
The FilterMax Series can operate as standalone instruments or can be integrated seamlessly with laboratory automation platforms, and is ideal for a broad range of applications, including drug discovery, genomics, proteomics and cell-based research. The unique patented design ensures precise performance and sensitivity across all detection modes.
---
Benefits
Performance driven specifications for sensitivity, dynamic range, accuracy, precision and linearity
Affordable multi-mode microplate reader
Excellent price / performance ratio
Features
3 or 5 Modes of detection
Automatic z-height optimization (top read) (F5 only)
Patented LED intensity adjustment
Up to 384-well format
Filter based multi-mode
---
Technical Data:
Tailored data analysis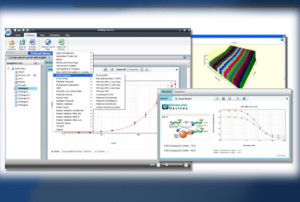 No need to waste time exporting data to external applications for analysis. In addition to the more than 140 predefined experiment protocols, use the straightforward yet powerful
programming capabilities of SoftMax Pro 6 Software to quickly analyze data.
• Perform multiple calculations on one data set with the Plate Cloning option
• Analyze data in a single plate, across multiple plates, or between different groups
• Use comparison view to look at multiple sections of your experiment side-by-side
• Zoom into desired wells, then adjust reduction parameters while collecting real-time
data for kinetic and spectral scans
• Report data using conditional formulas and apply variable weighting
• Create results summary reports with live mini-graphs and tables
---
SoftMax® Pro Software, Molecular Devices industry leading all-in-one data acquisition and analysis software, offers:
The most extensive library of "Ready-to-Run" application protocols to get you started faster
Advanced calculations including non-linear fitting metrics for in-depth analysis
Syntax Helper to simplify complex calculations
Tools to customize reporting and exporting of data
GxP support for 21 CFR Part 11 compliance is also available for Paradigm customers.