Cryotubes & Cryoracks
Description
Specifications
Downloads
Get Quote
We are committed to giving you the best, that is why our customers see the  need for reliable and detailed sample tracking.
The cryogenic range offers 2ml and 5ml, self standing cryotubes with a 2D barcode on the bottom. The data matrix code on the bottom is also written as linear Bar code 128 and as human readable code on the side of the tube.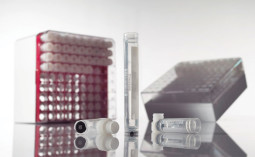 Characterization:
The tubes are available with either an external or an internal cap, both of which are designed for use with automatic decappers and can be sold in cryogenic storage boxes that also have both 2D bar codes at the bottom and linear Bar code 128 on the sides. We also supply a plate scanner to scan if need be,to  track and maintain the sample information.
---
Product features
• Suitable for low temperature storage of biological specimen
• Full sample traceability
• Double decoding with 2D and linear barcode
• External or internal cap  available
• One-piece cap design to eliminate leaking and  contamination
• DNse, RNase and  human genomic DNA free
• Pyrogen free
---
Technical Data:
4ti-4010               2ml Cryotube, external cap, double barcoded            500
---
4ti-4011                 5ml Cryotube, external cap, double barcoded           500
---
4ti-402                  0 2ml Cryotube, internal cap, double barcoded        500
---
4ti-4021               5ml Cryotube, internal cap, double barcoded              500
---
4ti-4030/B          Cryorack for 2ml tubes, double barcoded, blue             5
---
4ti-4030/Y         Cryorack for 2ml tubes, double barcoded, yellow          5
---
4ti-4030/R        Cryorack for 2ml tubes, double barcoded, red                  5   
---
4ti-4030/G        Cryorack for 2ml tubes, double barcoded, green             5
---
4ti-4031/B        Cryorack for 5ml tubes, double barcoded, blue                 5
---
4ti-4031/Y        Cryorack for 5ml tubes, double barcoded, yellow            5
---
4ti-4031/R       Cryorack for 5ml tubes, double barcoded, red                  5
---
4ti-4031/G        Cryorack for 5ml tubes, double barcoded, green            5
---