Carousel 6 Plus
Description
Specifications
Downloads
Get Quote
Parallel synthesiser that simultaneously heats, cools, stirs and refluxes multiple samples under an inert atmosphere.
Accepts round-bottom flasks from 5 to 250ml.
Characterization:
Features…
Powerful, even magnetic stirring – fits
on to a Carousel stirring hotplate.
Rapid and controlled heating to 180°C.
Efficient water cooled reflux head.
Perform reactions under an inert atmosphere.
Quick to set-up, easy to use
and maintenance free.
Wide range of vessel sizes from 5ml
to 250ml.
Interchangeable flask formats; sidearms, baffles, wide neck and azeotropic.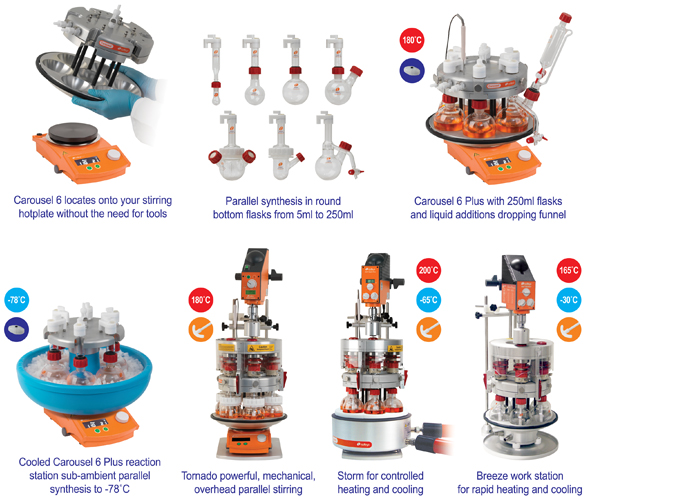 Technical Data:
Rapid Heating & Efficient Refluxing…
Circular, solid aluminium base transmits heat rapidly and evenly to all positions.
Boils six flasks of water in less than
25 minutes.
Digital temperature controller gives accurate temperature control of either the block or solution to within +/- 0.5°C.
PTFE heat protection ring helps protect user from accidental contact with hot aluminium base.
Removable aluminium inserts in Reflux Head allow easy removal of flasks, yet maintain good heat transfer for refluxing. Built in spring clip retains flasks once aluminium insert is removed.
Acetal quick-release valved couplings
on the side of reflux head allow disconnection of cooling water without loss of water.
Acetal quick-release coupling on top of the reflux head facilitates supply of inert gas or vacuum.